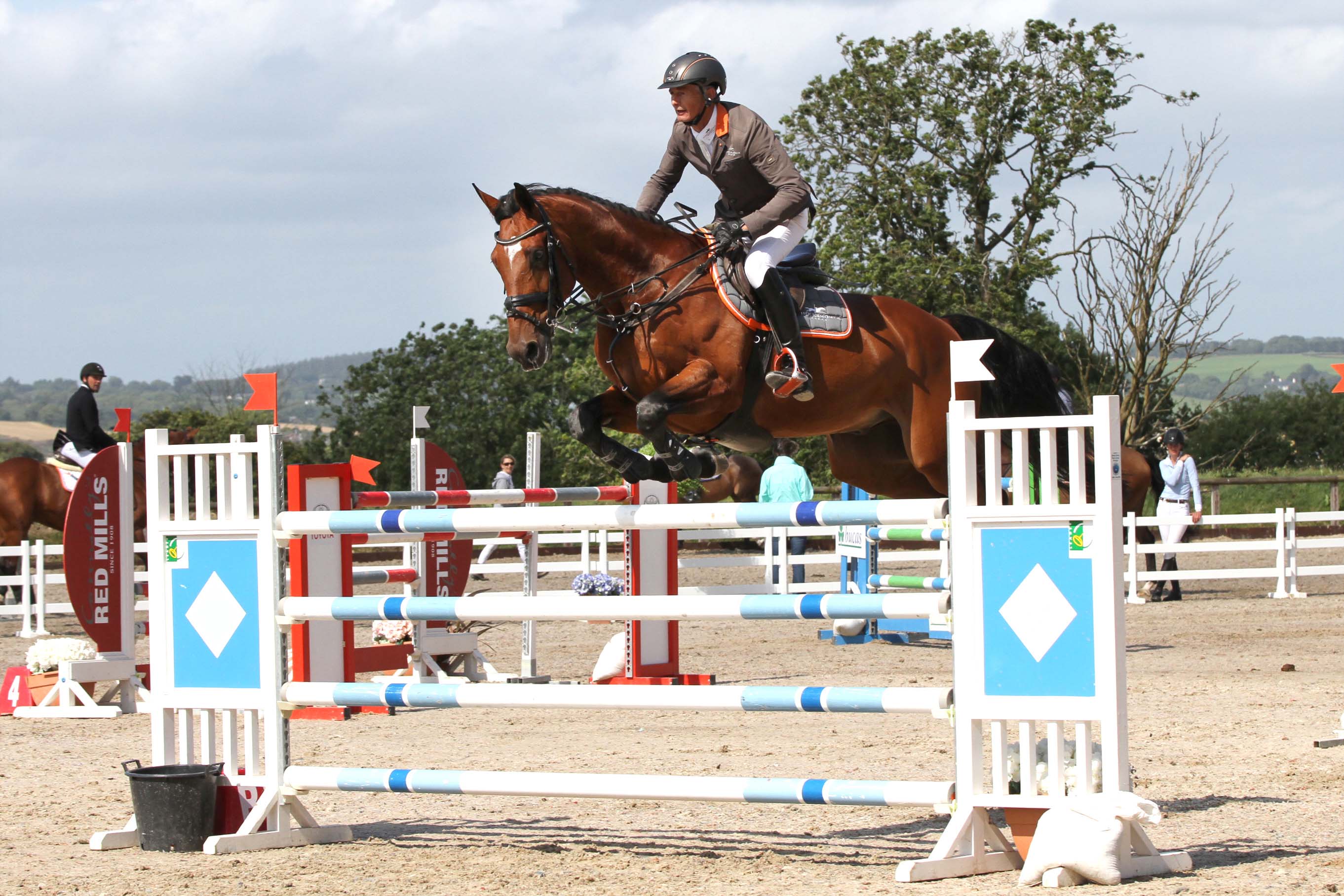 Waterford's Francis Connors recorded his second win of the 2016 Horseware/ TRM National Grand Prix series at Maryville Stables on Sunday. Twenty-five competitors lined out for the penultimate leg of the league with eight horses making it into the jump-off over the Tom Holden designed course.
Connors was fourth to enter the arena for the jump-off with Bobby Flynn's 11-year-old Lux Z gelding 'Hyperion' and having witnessed clear rounds from Peter Moloney and Paul Beecher he knew what he had to do. Having shaved nearly 6 seconds off the leading time it was just a matter of sitting back and watching the remainder of the jump-off. Current league leader Vincent Byrne came close to taking the top position but an unfortunate fence down earned Connors the win, ahead of Gerard O' Neill and 'KMS Clintland.'
Speaking after the Grand Prix, Connors said 'We've had an unlucky year with Hyperion but it's great to cap it off with a win today.' The victory saw him climb up to third place in the Horseware/ TRM National Grand Prix leaderboard with Vincent Byrne and Gerard O' Neill still holding on to first and second positions.
Connors had a busy weekend at Maryville, occupying the second and third places in the final lineup of Saturday's 1.35m Connolly's RED MILLS Munster Grand Prix with 'Capitol Cruis' and 'Uskerty Diamond Lady.' He thought he had done enough to take the win but Paul Beecher set the place alight with Seryna Van Kuelen's 'Danqu' recording the fastest time of the ten horse jump-off at 37.37. Earlier in the day, Peter Moloney took the honours in the FBD sponsored 1.20m Series with Ann Veale Foran's 'Ballyconnery Wood.'
1.40m Horseware/TRM National Grand Prix – Maryville Stables
Francis Connors (Hyperion), 0/0/44.72
Gerard O' Neill (KMS Clintland), 0/0/49.88
Peter Moloney (ESI Carvalho), 0/0/54.52
Vincent Byrne (Mr. Rockefeller), 0/4/45.37
Vincent Byrne (Caugherty), 0/4/46.39
Paul Beecher (Cruising Star), 0/4/50.52
Full result available here.